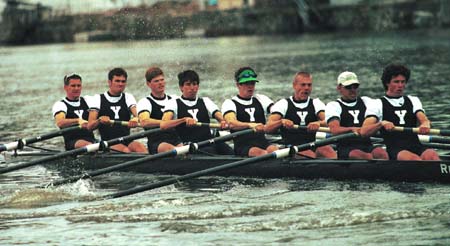 (West Windsor, NJ) The Yale lightweights couldn't find the right gear today on Mercer Lake in the IRA Grand Final. The Eli had their sights set on #1 seed Cornell and taking the national championship, but came in fourth place after Yale, Columbia, and Harvard in turn made their runs at the Big Red. None could overtake Cornell, who won their first 1922 Trophy since 2008.
Captain Matt O'Donoghue said after the row, "I guess it would be nice to be on the podium with a silver or a bronze, but really we would feel the same as we do now. We came here to win. Good job to Cornell, nobody could beat them this spring."
The Yale lightweight four had a better final than their heat, finishing fifth in the Grand. 
The IRA group is all returning in 2014-2015, save for graduating seniors Matt O'Donoghue, Brendan Harrington, Joshua Mann, and Ilana Usiskin.