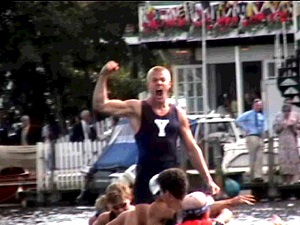 The Yale lightweights won two medals in the IRA fours events this year, and they wanted a medal in the eight as well, but a strong field and a stronger telephone pole put that 3rd medal goal away. 
The high for the regatta was on Saturday, when first the coxless four won the bronze in a brand-new event. Short on their heels the coxed four led the race from pillar-to-post to take the gold medal. 
The eight faced more than a challenge from a strong field, for on Thursday (the travel day) the stern of the varsity eight was damaged beyond repair just outside of the race course. The generous offer from the Princeton women's crew of a similar racing shell meant that the crew could make as seamless a transition as possible. After that turmoil, the crew had some good rows, but on the day could not find the top gear necessary to run with the leaders in either the heat or the final, and finished in 5th place.