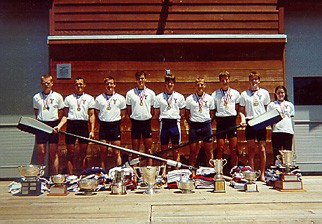 The Goldthwait Cup and Vogel Cup annual competition is always a barn-burner, and 2015 was no different here today in fast conditions on the Housatonic River. 
In a race that went all the way down to the wire, Princeton took the varsity event over Yale by 1.15 seconds who were in turn 2.55 seconds in front of Harvard.
The 2V race saw the #1 ranked crew, Princeton, upset by both Harvard, who won, and Yale, who was second.
The 3V was won by Princeton in a come-from-behind win over Harvard with Yale trailing a length back.
The Vogel Cup was won by Princeton with a score of 35 points to Harvard's 28 to Yale's 24.
The Harvard coxswains took the coveted "Not Cheating Not Trying" Trophy by unveiling the old "row all four at a time trick". Yale second in a photo-finish ahead of Princeton.