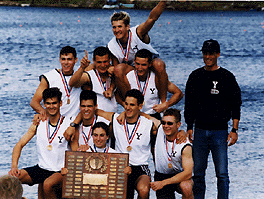 (April 26 - Boston) The Yale varsity came up one foot short today on the Charles, which cost them both the Goldthwait Cup for the varsity eights and the Vogel Cup for overall team performance at the annual contest between Yale, Harvard, and Princeton. Princeton won the varsity eight in a virtual tie with Yale, with Harvard 6 seconds back. The 20 Vogel Cup points for Princeton were enough to win them the Cup for the first time since the Cup was inaugurated in 2003..
Yale and Princeton started the race strongly, and the crews were level through the first 1000 meters, when a good Princeton effort pushed them out to about a half length or more lead. But Yale pushed back throughout the last 500 in a long drive that fell just short by a foot. 
The Yale 1F gave a decent accounting of themselves, pushing Harvard the whole way, and giving up only a length over the distance. The 2V race was all Princeton, as the crew proved their sterling record to date was well deserved. And the combination 3V/2F race went to Princeton as well.  
Harvard was believed to have won the coxswain's race, but widespread reports of skullduggery, underhandedness, and prestidigitation were rife amongst the enthralled crowd.