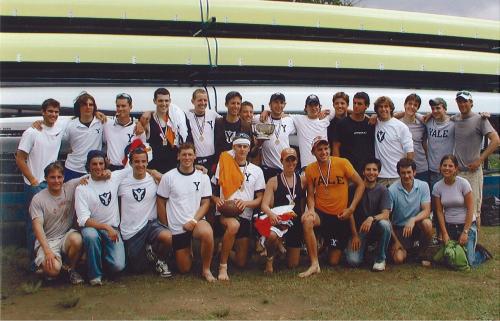 The Blue 150-lb. squad went to Worcester to see if they could grab three medals in the Jope Cup events and disrupt some rankings, and the team almost did that across the board today.
The 4th seed Yale 1V finished third in the slower of two heats to Cornell and Harvard to take the last qualifying spot.
The 2V finished second in their heat, also to Cornell, while posting the third fastest time of the morning.
The 3V finished third in their heat to set up Yale as one of four schools to have entries in all three Jope Cup events.
The finals were thrilling at all levels, starting with the 3V, who came back on the field with strong push at the 1000 meter mark. That move along with a strong finishing spring almost saw them get on the podium, coming within a foot of bronze medalist Navy.
The 2V raced bravely but a bit recklessly, rating far above the field for the first 1250 or so. This did get them the lead, but that effort caught up with the Bulldogs as they faded hard to 5th, which was one place less than their seed.
The 1V did not get off the line the way they wanted, and that put them on the back foot, level with Princeton and Harvard behind Cornell and Columbia. The crew did manage to move slowly away from Harvard, but were unable to keep up with the leading pack, to finish at their seed, 4th.
This finish qualifies the Eli for a place at the national championship table in two weeks, in Mercer County at the IRA Regatta.